TLA Applauds the Newly Designated Northwest Florida Sentinel Landscape
February 21, 2022
The Sentinel Landscape Partnership, comprised of the U.S. Department of Agriculture (USDA), Department of Defense (DoD) and Department of Interior, recently designated three new Sentinel Landscapes. The selected landscapes play a crucial role in strengthening the nation's military readiness while addressing natural resources concerns like climate change. One of those selected was the Northwest Florida Sentinel Landscape. Defenders of Wildlife played a key role in developing the Northwest Florida Partnership that achieved this significant designation.
"Defenders is proud to serve as the nonprofit coordinator for the Northwest Florida Sentinel Landscape. Designating this area as a Sentinel Landscape is critical to promoting sustainable management practices on the land that will help protect wildlife habitat. This is a major victory for biodiversity and our armed forces," said Jamie Rappaport Clark, President and CEO of Defenders of Wildlife. "We are proud to be part of such a unique partnership and hope it will continue to serve as a model for collaborative landscape management for years to come."
The Northwest Florida Sentinel Landscape contains rural and agricultural lands, iconic longleaf pine forests, threatened and endangered species habitats, and nine key DoD facilities integral to U.S. Air Force operations as well as Navy, Marine Corps and Coast Guard aviator training. Partners will focus on addressing the resilience and sustainability of natural systems by conserving and restoring habitat and water resources. Identifying, implementing, and accelerating projects that mitigate coastal risks will increase the climate resilience of military installations and the landscapes that overlap mission footprints.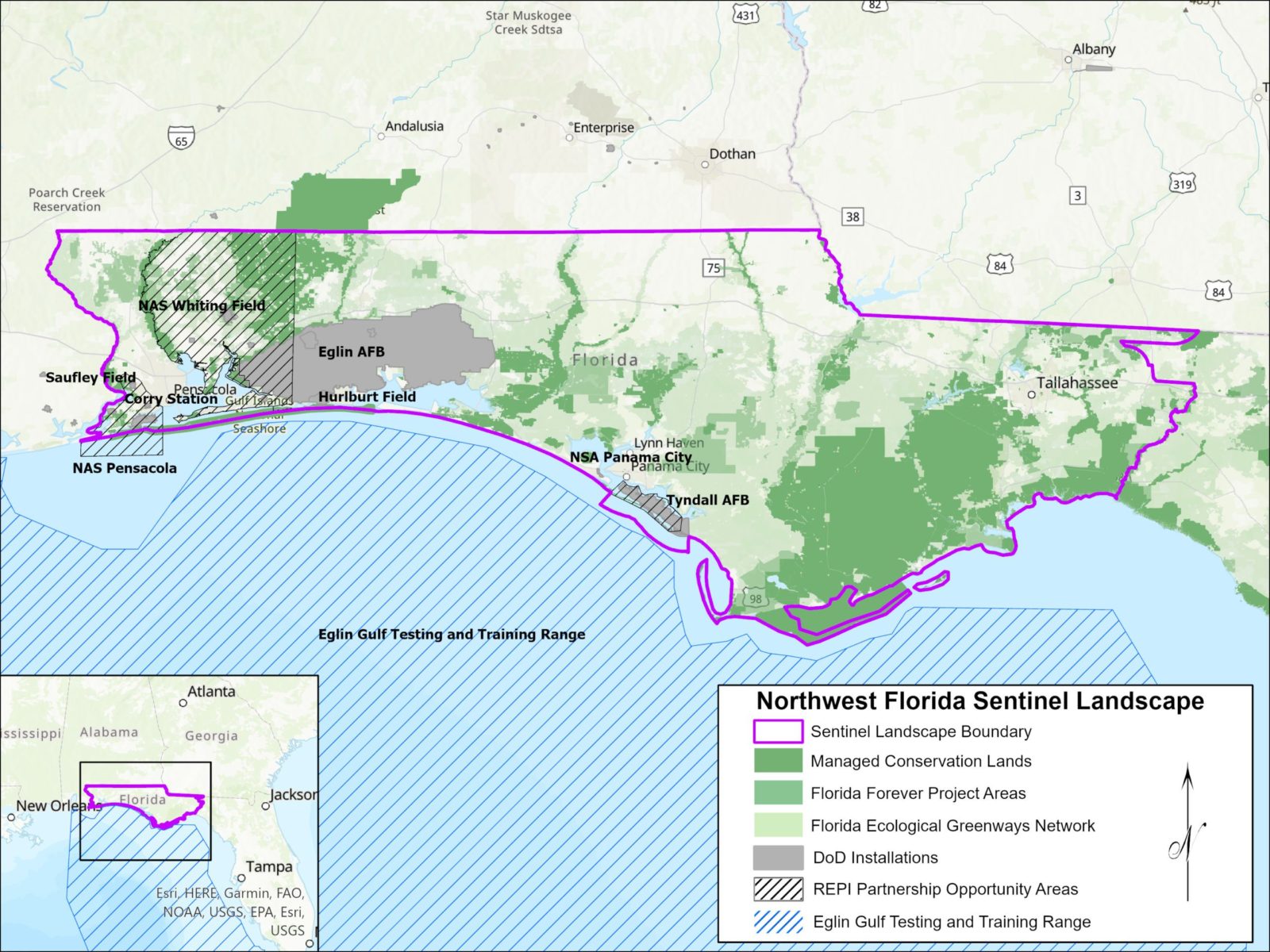 "These new sentinel landscapes are a testament to the power of collaboration and partnership," said USDA's Natural Resources Conservation Service Chief Terry Cosby. "By using USDA's conservation programs to protect viable farmland, rangeland, forestland, and grasslands from development around these military installations we ensure that our military has flexible locations for training while at the same time protecting critical water resources and wildlife habitat on working lands and supporting climate resiliency." Juan Hernandez, Florida State Conservationist for the USDA Natural Resources Conservation Services, added, "I am absolutely looking forward for the coordination of resources and ideas for implementation of conservation practices in private lands in Northwest Florida."
The Longleaf Alliance's Gulf Coastal Plain Ecosystem Partnership also looks forward to new collaborations through the Northwest Florida Sentinel Landscape, knowing these opportunities will accelerate the recovery of the longleaf ecosystem.