Our mission is to ensure a sustainable future for longleaf pine ecosystems.
Longleaf pine ecosystems historically dominated the Southeast, stretching from Eastern Texas to Southern Virginia. With only a fraction of longleaf remaining today, The Longleaf Alliance strives to promote functional longleaf forest ecosystems where appropriate in today's southern forests.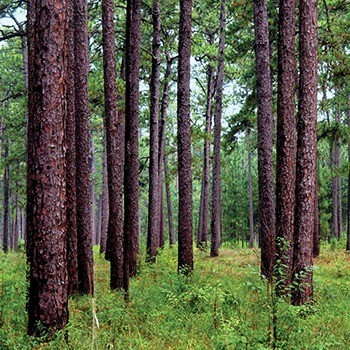 Science-based outreach provides assistance across the longleaf range.
The Longleaf Alliance works throughout the range of longleaf pine to emphasize the ecological, economic, social, and historic importance of this once vast ecosystem. Since its inception, The Longleaf Alliance has used outreach, education, research, direct involvement, and hands-on experience to develop and provide the best available information and support in an unbiased manner to landowners, managers, policy makers, educators, and the public.
Collaborative partnerships strengthen our work.
The Longleaf Alliance was established in 1995 by Rhett Johnson and Dean Gjerstad as interest in longleaf ecosystems and the longleaf pine tree itself was growing rapidly, but there was no outlet available for people to connect, learn, and share their efforts. The LLA was created with the express purpose of coordinating a partnership between private landowners, forest industries, state and federal agencies, conservation groups, researchers, and other enthusiasts interested in managing and restoring longleaf pine forests for their ecological and economic benefits.
All are welcome.
Since its inception, The Longleaf Alliance has served diverse communities of landowners, managers, policy makers, partners, educators, students and more, across the natural longleaf range and beyond. Just as every tract of land and habitat is unique, so are our staff and the people we serve. We strive to create an organization where everyone interested in longleaf feels welcome, respected, and valued for the perspectives they bring to the table. Read more.