The Longleaf Academy Program was developed to better prepare natural resource professionals and private landowners to manage, restore, and enhance longleaf pine ecosystems. We aim to create a uniformly well-informed network of longleaf ecosystem professionals to extend the reach of The Longleaf Alliance. We recognize that our message for sound management principles goes far beyond the students who participate in our programs as they provide technical assistance to landowners and mentor new natural resource professionals to the field of longleaf.
The Longleaf Academy program will continue to grow and adapt to the needs of landowners and partners; we are committed to being honest brokers of longleaf information and providing timely, science-based advice.
For the latest schedule of course offerings, see our Events page.
Courses offered in the Longleaf Academy Program include: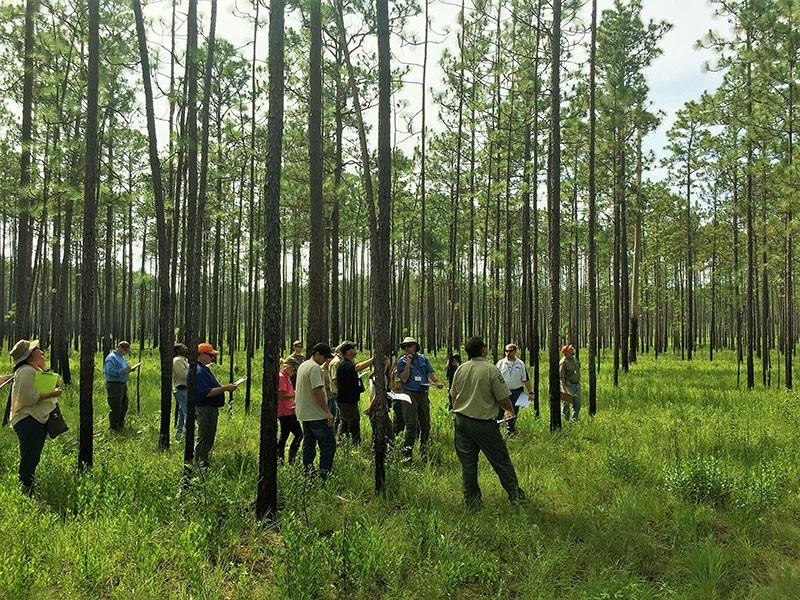 Our flagship program, Longleaf 101, is an intensive 3-day training that includes classroom and field instruction in "all things longleaf." Longleaf 101 is intended for participants of all levels of experience working with longleaf pine systems.
Students will come away with an understanding of:
Cultural and natural history of longleaf pine
Use and effects of fire in longleaf ecosystems
Artificial regeneration, including site selection, seedling quality, site preparation, planting, and release techniques
Natural regeneration systems
Longleaf stand dynamics
Silvicultural practices in converting to longleaf
Habitat management including threatened and endangered species considerations
Native understory restoration
Diseases and pest identification
Forest products and economics
Topics of local significance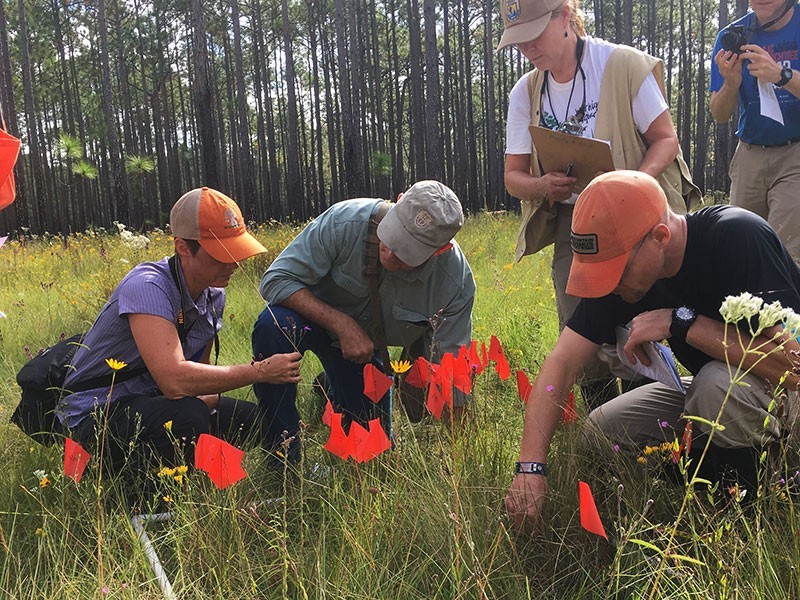 Understory Diversity provides continuing education about the diverse understory of longleaf ecosystems, with an emphasis on native warm season grasses, composites and legumes. This 2-day course consists of both classroom lectures and hands-on field exercises.
Students will learn about:
Basic botany terminology
Plant identification of the primary species of native warm season grasses, composites and legumes
Native plants important to wildlife
Restoration and management methods
Topics of local significance
Herbicides & Longleaf 201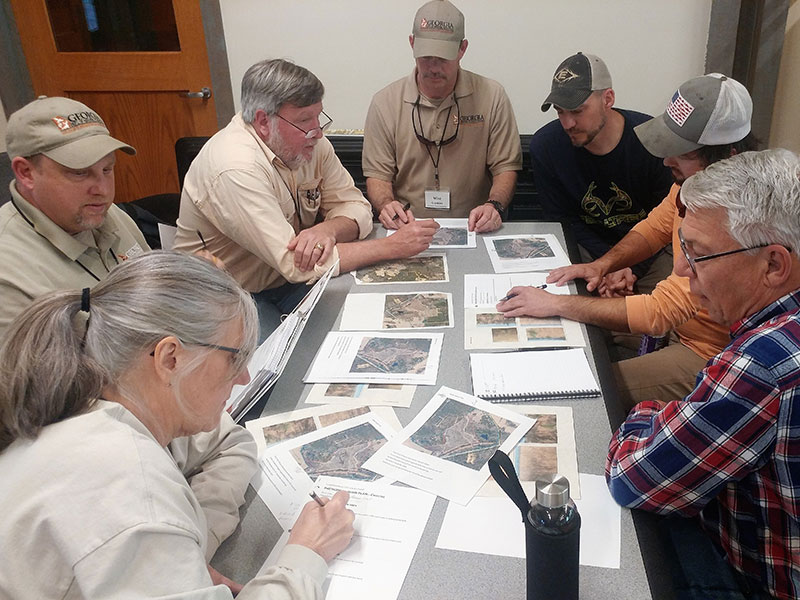 The Herbicides & Longleaf 201 course provides instruction in the selection of herbicides for ecological restoration and longleaf management. This 2-day course consists of classroom lectures and exercises. Field trips may also be associated with the course.
Topics covered include:
Herbicide application rates and timing
Surfactants and adjuvants
Application equipment and methods
Longleaf-specific herbicide effects
Site prep and release treatments
Practices to minimize impacts to longleaf pine and other desired species
Invasive species identification and control
Topics of local significance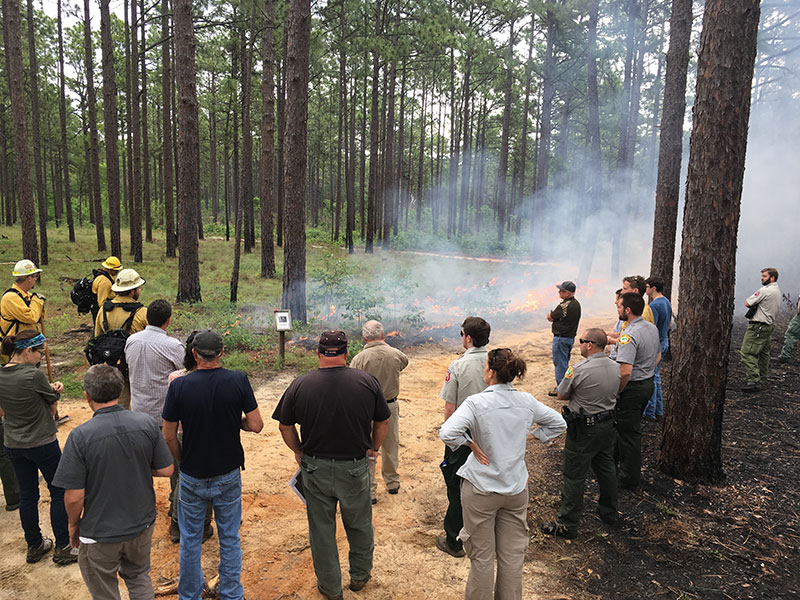 This 3-day course is designed for landowners and natural resource professionals of all experience levels interested in the use of prescribed fire in longleaf pine ecosystems. Fire is recognized as a necessary tool for maintaining well-managed longleaf stands, whether your objectives are ecological or economic. The goals of this course are to develop lifelong students of fire and to educate about the longleaf-specific considerations when planning a prescribed burn. Participants are encouraged to have begun the certified burner process in their home state in conjunction with Fire and Longleaf 201.
Weather permitting, we will incorporate a live fire demonstration to give students the opportunity to observe and participate in a prescribed burn.
Topics covered include:
Fire behavior
Fire weather parameters and forecasts
Ignition techniques
Fireline tools
Introducing the use fire in young longleaf stands
Re-introducing fire to long unburned stands
Burn plan development
Smoke management techniques
Topics of local significance
Groundcover Restoration 201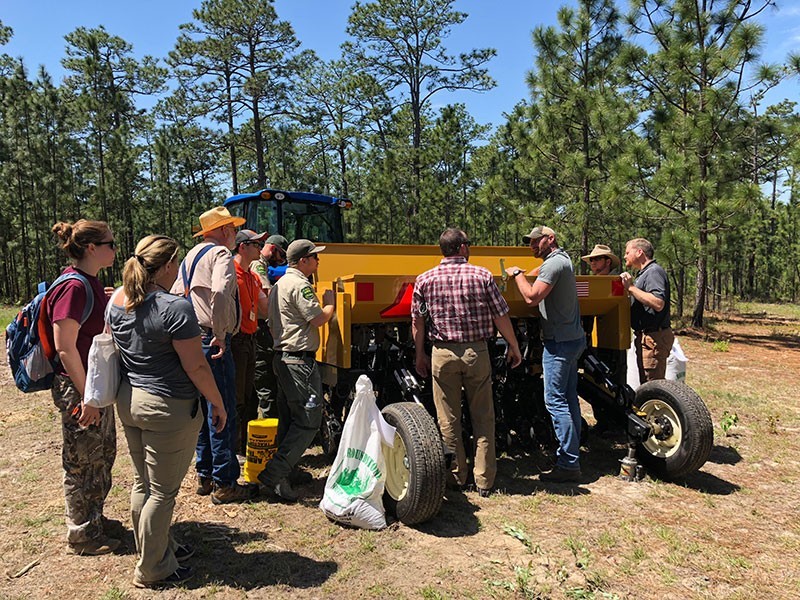 Groundcover Restoration focuses almost entirely on the "nuts and bolts" of restoration. Prior students of our Understory Diversity course will find that this new Academy offers the practical counterpart to the plant identification and ecology lessons learned in U201.
The Groundcover Restoration course follows a 2.5-day curriculum, with classroom lectures, field exercises, demonstrations, and hands-on learning activities to guide students through the principles and practices of restoring groundcover to longleaf systems.
Topics include:
Determining restoration needs
Management planning for restoration projects
Site prep options to preserve existing groundcover
Selection of plant materials
Considerations for choosing seed sources, ecotypes, and mixes
Demonstrations of various types of equipment used in seed collection, site prep, and planting
Topics of local significance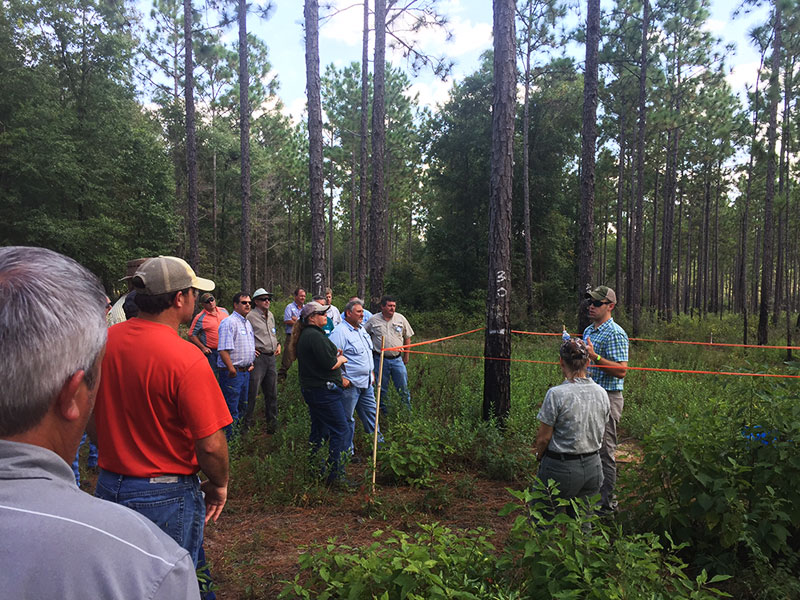 The Gopher Tortoise course is a special session and not offered as frequently as our 101 and 201 courses. This course was developed in cooperation with U.S. Fish and Wildlife Service, Westervelt Ecological Services and the Gopher Tortoise Council, and includes in-depth classroom and field instruction in "all things gopher." The intent is to better prepare natural resource professionals to address gopher tortoise management problems specific to the federally listed range of the species.
Topics covered include:
Biology of the tortoise
Life history and population dynamics
Habitat requirements and management
Habitat conservation plans, conservation easements, in-lieu fees, and mitigation banks
Current status in listed and non-listed range
Restoring fire to enhance tortoise habitat
Threats and mitigations including forestry BMPs, solar conversion, pathogens, head-starting and translocation mitigations
Topics of local significance