The Longleaf Leader is an official publication of The Longleaf Alliance, produced and distributed quarterly to assist our mission to educate and assist landowners, natural resource professionals, partners, and other longleaf enthusiasts on relevant longleaf pine topics. Members of The Longleaf Alliance receive our quarterly magazine The Longleaf Leader delivered directly to their mailbox or inbox.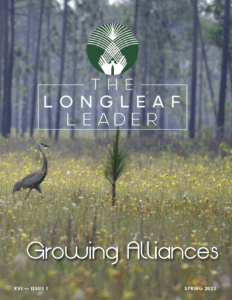 Publication Contributions
Please follow The Longleaf Leader Guidelines to submit an article, photo, or event for inclusion.
Advertising information is available in the Media Kit. Contact Sarah Crate with questions.
We make our past issues available online for the entire longleaf community following the mailing of the newest issue. If you would like to receive the most up-to-date information, please consider supporting The Longleaf Alliance.