Restoration Through Partnerships
America's Longleaf Restoration Initiative
The Longleaf Alliance is a founding member and leader within the America's Longleaf , a collaborative effort of multiple public and private sector partners that actively supports range-wide efforts to restore and conserve longleaf pine ecosystems. The vision of the partners involved in America's Longleaf is to have functional, viable longleaf pine ecosystems with the full spectrum of ecological, economic and social values inspired through the voluntary involvement of motivated organizations and individuals.
Within ALRI, 18 Local Implementation Teams (LITs) are coordinating longleaf restoration efforts across lands and organizations. The Longleaf Alliance collaborates with LITs in all 9 states and leads coordination of 3 LIT partnerships:
Fort Stewart/Altamaha Longleaf Conservation Partnership 
The Fort Stewart/Altamaha Longleaf Conservation Partnership is an area in southeast Georgia that was designated a Significant Geographic Area through America's Longleaf Restoration Initiative. Launched in 2014, the Partnership boundaries comprise about 5,000,000 acres, based primarily on past modeling for gopher tortoise habitat.
Partners prioritized proper fire management as what is most needed for longleaf restoration in the SGA and burning has been focused on priority habitat on both public and private lands. Other activities have included longleaf seedling planting on both public and private lands and outreach and technical assistance to private landowners.
The LIT has focused much attention on native groundcover restoration. Recognizing that native groundcover restoration is extremely important for restoring diversity and for carrying fire. Restoration of a proper fire regime for restoring longleaf habitat and ensuring regular fire for maintenance of restored longleaf ecosystems is key to management within the LIT.
Contact:
Wendy Ledbetter, LIT Coordinator, The Longleaf Alliance
Gulf Coastal Plain Ecosystem Partnership (GCPEP)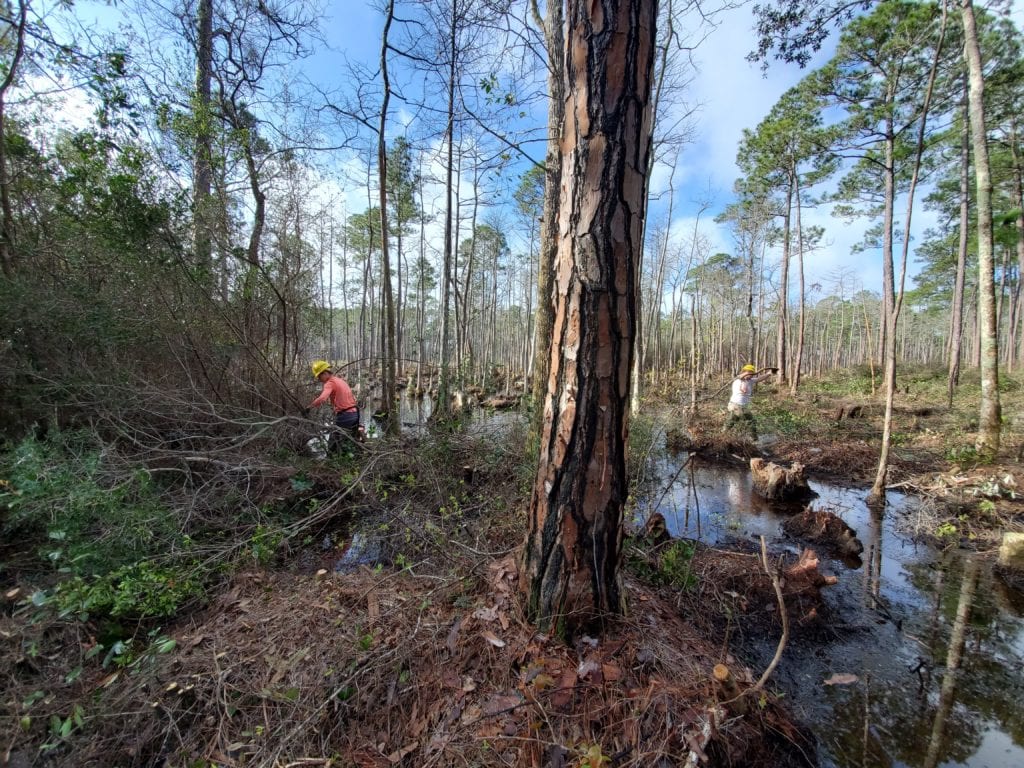 The Gulf Coastal Plain Ecosystem Partnership (GCPEP) was formed in 1996 when its partners first came together to conserve and restore the dwindling longleaf pine ecosystem and the unique aquatic resources of north-west Florida and southern Alabama. Together, 16 public and private partners comprise GCPEP and manage more than 1.3 million acres that contain the majority of the world's remaining old-growth longleaf pine trees.
GCPEP is driven by a Steering Committee, which makes decisions based on consensus, and is supported by The Longleaf Alliance staff that works with Partners to conduct projects that are identified as priorities by the Steering Committee.
The highest priorities in the GCPEP Conservation Plan include prescribed fire, invasive species control, and recovery of rare species. To assist partners with these priorities, several Alliance teams, including the Ecosystem Support Team (EST), Wetland Ecosystem Support Team (WEST), and the AMBBIS Team (reticulated flatwoods salamander), are helping to support restoration activities on private and public lands. The GCPEP teams' accomplishments include prescribed fire on partner lands in Alabama and Florida, invasive species control, mid-story treatments, and mechanical restoration of isolated wetlands. The AMBBIS Team also leads the reticulated flatwood salamander head-starting program.
This progressive partnership demonstrates that organizations with different missions can cooperate to achieve success under the common goal of landscape-scale ecosystem conservation. Working together, the Partners have been able to learn and accomplish much more than they could do on their own.
Contact:
Vernon Compton, GCPEP Director, The Longleaf Alliance
8831 Whiting Field Circle, Milton, FL 32570
850.623.0987
SoloACE Longleaf Partnership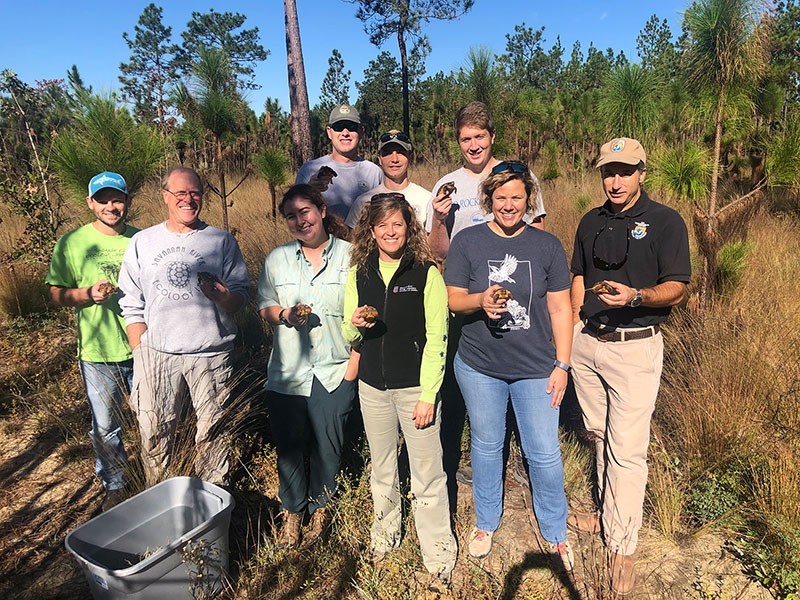 The SoLoACE (South Lowcountry and ACE Basin) Longleaf Partnership was formed in 2013 by a diverse group of state, federal, and private organizations all working together to protect, enhance and restore the longleaf pine ecosystem in South Carolina.
The focal area consists of approximately 4.1 million acres and includes all or parts of eleven counties (McCormick, Edgefield, Aiken, Orangeburg, Barnwell, Bamberg, Allendale, Hampton, Colleton, Beaufort and Jasper) and is one of three longleaf focal areas in South Carolina. It's anchored by the 200,000 acre Savannah River Site, a Department of Energy property managed by the USDA Forest Service, in the northern part of the focal area and another 150,000 acres of state and other public conservation lands including a hub of South Carolina Department of Natural Resources properties to the south. Privately conserved lands also make up a significant portion, with landowners permanently protecting over 250,000 acres of land from development through conservation easements.
The vision of the SoLo-Ace Partnership is a South Carolina landscape having functional and viable longleaf pine ecosystems, providing a full spectrum of ecological, economic, and social values, restored and maintained through a voluntary partnership of concerned and motivated landowners and organizations. Its mission is to promote the maintenance and restoration of the longleaf pine ecosystem on private and public lands, with priorities to expand and connect existing natural stands through landowner outreach and engagement via education and outreach with a focus on prescribed fire, cost-share distribution for state and private landowners for longleaf restoration and management, and supporting the restoration of key imperiled species through special projects. Learn more in the Conservation Plan.
Contact:
Jennie Haskell, Coastal Partnerships Coordinator, The Longleaf Alliance