Needles - evergreen, 8 to 17 inches in length, fascicled in groups of 3
As its name implies, longleaf pines have the longest needles of all southern pines. The needles are grouped in threes and arranged in tufts on the end of branches. Needles persist for approximately 2 growing seasons before shedding.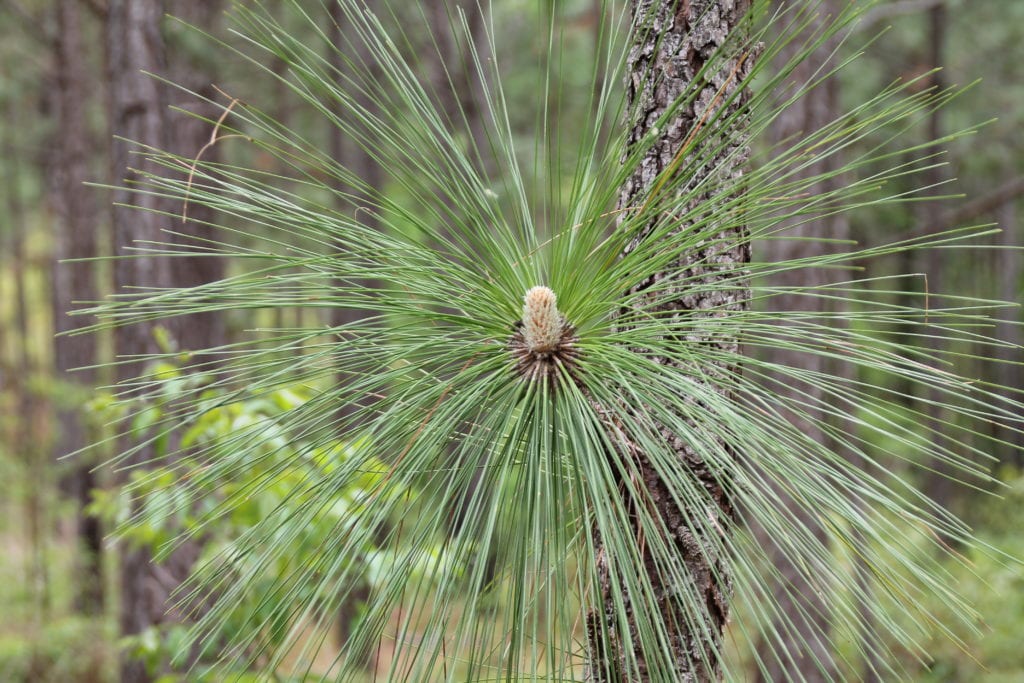 High in natural volatile chemicals, longleaf pine needles are slow to decay once they fall to the forest floor. However, frequent fires throughout the woods easily ignite the dead needles and clean the forest floor of pine needles and other debris.
Native Americans and early settlers frequently used pine needles to weave baskets. Today, longleaf pine needles (called "pine straw") are gathered and used as garden mulch because of their pleasing color and length.
Cones - prickly, brown/gray in color, ~11 inches in length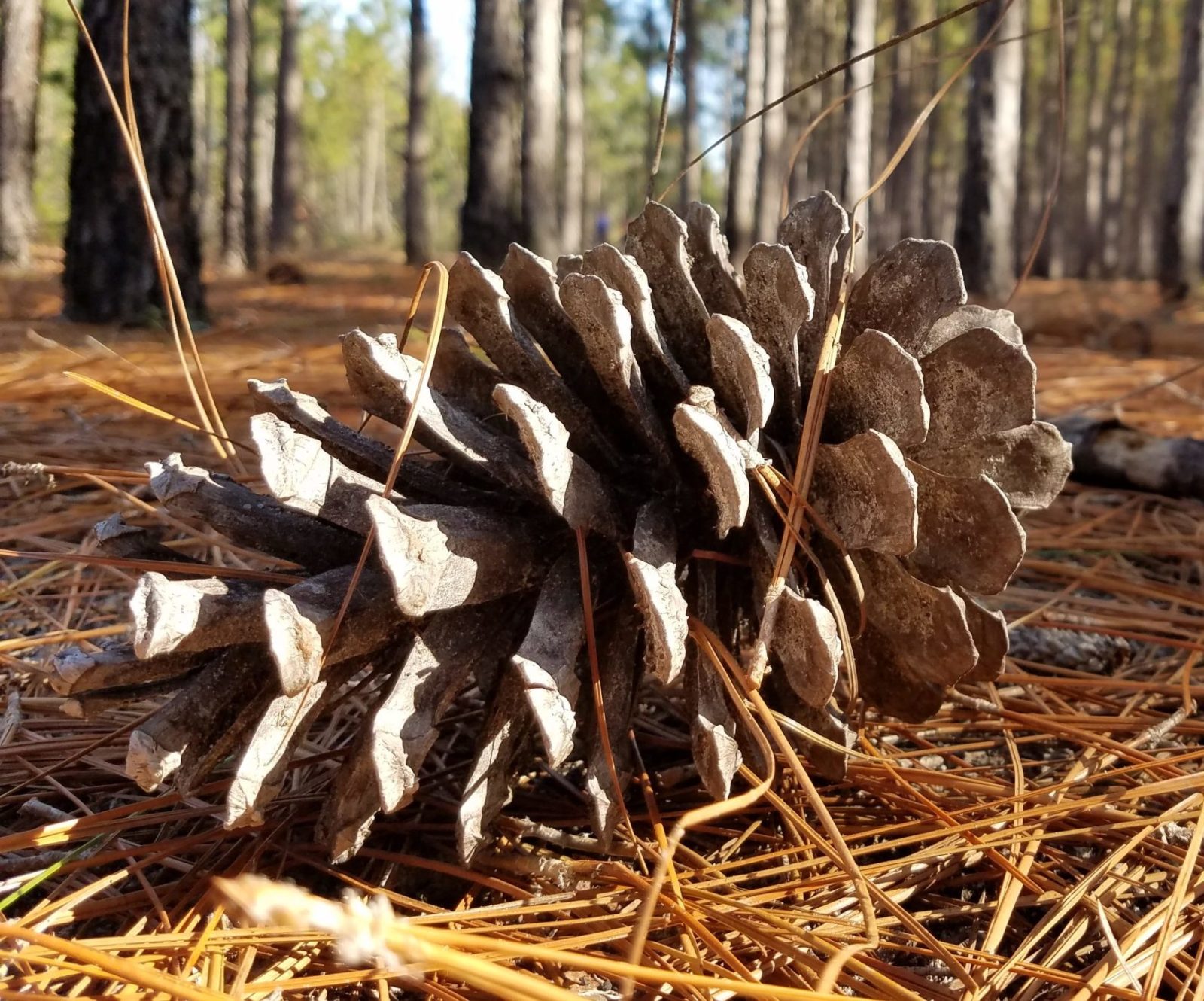 Like all pines, longleaf is monoecious with both the male and female reproductive cones found on the same tree. Longleaf pine's reproductive cycle takes over 2 years to complete, with the larger female cones eventually maturing by autumn of the second year. Longleaf pines are sporadic seed producers with infrequent good seed crops. Cones open and seeds fall in October and November.
The cones of longleaf pine are the largest of the southern pine and range in size from 5 to 12 inches in length. Because of their large size, only animals like the fox squirrel are sizable enough to manipulate and open the longleaf pine cones to eat the seeds before they fall to the ground.
Bark - red/brown in color, plated with paperlike scales
On young longleaf pine, the bark appears brownish-gray and is deeply furrowed. As the tree ages, the furrows become shallower, the bark color assumes an orange-brown shade, and the exterior scales appear more papery.
The thick bark of longleaf pine generally protects the tree from the frequent fires in the Southeast. Charred signs of past fires are often visible on the bark. Occasionally, a fire may burn through the bark creating a wound. Over time a noticeable fire scar may develop. A large fire scar may weaken (or perhaps kill) a longleaf pine tree. Nonetheless, fire scars make excellent nesting sites for animals such as bluebirds.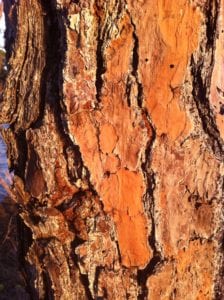 Many species of birds, such as the white-breasted nuthatch, brown creeper, and red-cockaded woodpecker, scramble up and down the tree, peeling off scales of bark, searching for insects seeking refuge underneath. Some reptiles or amphibians like the barking tree frog or pinewood's tree frog take a more passive approach when hunting food and simply wait on the bark for food to come to them.
Roots
In its early life stages longleaf pines may demonstrate little growth aboveground, but belowground a tremendous amount of activity is taking place. Establishing an extensive root system provides essential access to soil moisture and anchorage once the tree initiates height growth.
As the tree continues to mature, the lateral and tap roots continue to grow. In mature trees, roots radiate out laterally an average of 35 feet from the trunk (some roots may travel up to 75 ft). Longleaf differs from other pines in that the tap root is nearly as large in diameter as the tree's trunk, tapering gradually to depths (on average) of 10 to 15 feet.
Longleaf roots are high in carbohydrates and other nutrients making them prized food for wildlife. Although relatively harmless to mature longleaf, root foraging can damage young trees. At one time, wild pigs were so abundant in the Southeast that their voracious appetite for longleaf roots resulted in countless acres of young trees rooted up.
When a longleaf pine tree dies, its root system decomposes or burns in a fire, creating a myriad of underground tunnels - ideal habitat for various creatures.