Alabama's Longleaf Ecosystem Restoration Team
August 15, 2023
Providing Technical Assistance in Managing Longleaf Pine
The team approach connects experts from different backgrounds into an efficient network across Alabama to advance longleaf restoration for multiple objectives.
This effort continues to grow as more landowners choose longleaf, and today some fourteen people from twelve different agencies and non-governmental organizations work together to help landowners and managers, private and public, to reach their goals with longleaf.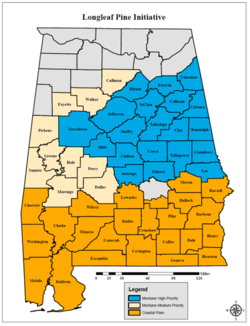 The ALERT brochure enables people with questions to find help. As the team organization changes, this brochure is periodically updated.