Burn season is coming: are you ready?
October 26, 2023
Cool days and long nights, the seasons are changing.
Whether your management plan calls for burning this winter or later in the year, good planning is a crucial factor to success.
Here are four tips to make sure you're burn ready.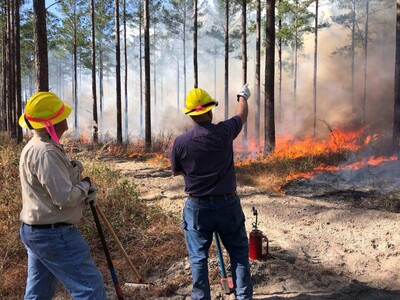 Plan: As the adage goes, if you fail to plan, then you plan to fail. A burn plan ensures that every variable is considered and addressed before the fire is lit. Planning early, including developing a burn unit map, also helps prioritize your fire lane maintenance. Don't forget to talk to your neighbors about your plan. This template from the Georgia Forestry Commission is a helpful tool.
Prep: The most critical tool in managing a prescribed burn is a wide firebreak of exposed mineral soil.  Creating and maintaining firebreaks can be time-consuming so it's best to get a head start or get assistance from your state forestry agency.
PPE: Sometimes a year of riding in a truck toolbox or sitting in a garage cabinet can cause damage to our Personal Protective Equipment (PPE). There's still time to put things on your holiday wish list or reserve a burn trailer with basic PPE and other tools for a safe burn.