Shop – Conserve – Restore
August 23, 2023
The Longleaf Alliance launched the Inaugural Online Auction in 2021 to showcase our members' and conservation partners' talents and goods and raise vital funds to continue our on-the-ground longleaf pine ecosystem restoration and conservation efforts. The Online Auction has now become a biennial tradition to bring the longleaf community together for friendly bidding wars in the years we are not hosting the Biennial Longleaf Conference.
This year's Online Auction took place Monday, July 17 – Sunday, July 23, with nearly fifty items up for bid. Our hottest auction item was an ancient longleaf pine cross-section donated by Tall Timbers Tree-ring Lab, Dr. Jean Huffman. The rings date to 1501-1713; after 63 bids, the roughly 15" diameter and 1" thick longleaf pine cross-section sold for $6,050! One lucky bidder won this awe-inspiring piece of longleaf pine history.
Due to the generosity of our incredible supporters, we doubled our $10,000 goal. Bidders stretched their donations further because Bartlett Tree Experts matched the collective highest bids up to $7,500. Just wow!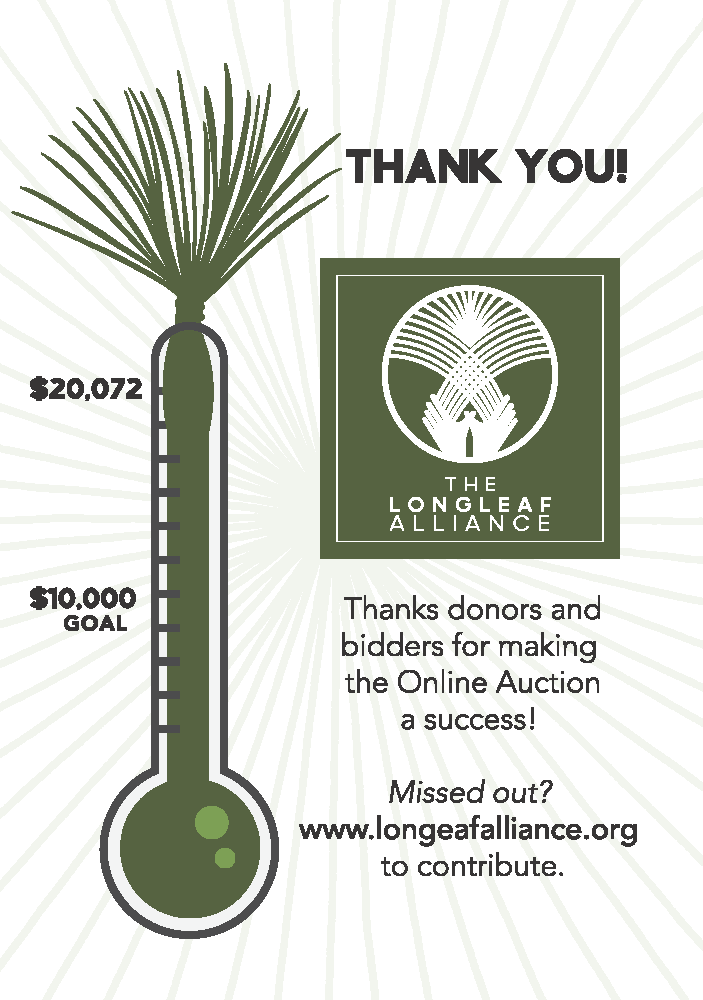 Thank you for sharing the event on social media, donating, purchasing items, and wishing The Alliance luck with this effort.