The Owen Fellowship – $20,000 Award for Longleaf Graduate Research
April 1, 2023
Now in its second round, The Owen Fellowship of The Longleaf Alliance is a two-year program offered in conjunction with the Biennial Longleaf Conference.
The Owen Fellowship aims to advance longleaf pine research through a $20,000 scholarship award for graduate students.
The 2024-25 recipient will attend the 2024 Biennial Longleaf Conference, conduct research related to longleaf pine conservation, management, or restoration, submit an article for publication in The Longleaf Leader, and present their research at the 2026 Biennial Longleaf Conference.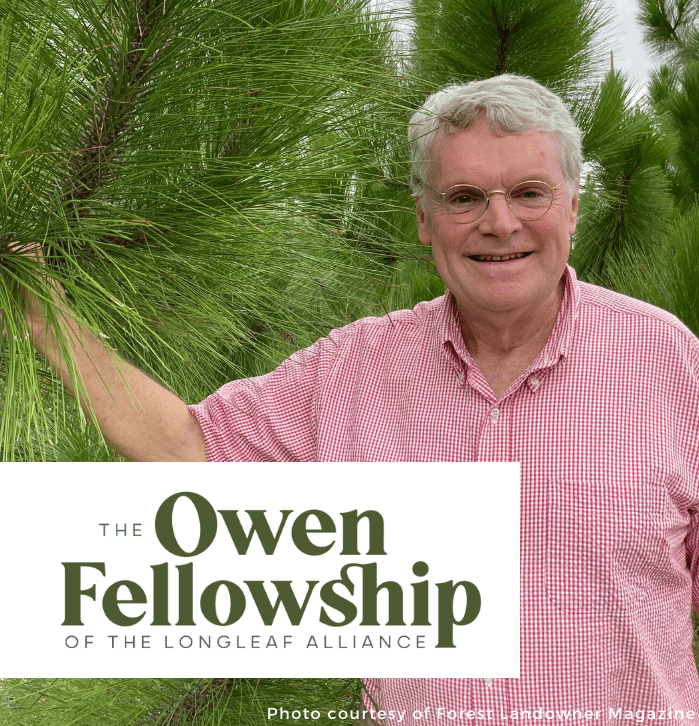 Applications for the 2024-25 Fellowship will be accepted September 1, 2023 through January 12, 2024, with interviews to follow.
Dr. William 'Bill' Owen is a professional musician, educator, and landowner in Virginia. Through his work on the Board of Directors of The Longleaf Alliance, he was inspired to endow a fellowship for advanced studies and research in the longleaf pine ecosystem. He hopes The Owen Fellowship will encourage the next generation of longleaf leaders.