TLA Receives 2022 FSC Leadership Award
October 21, 2022
The Longleaf Alliance is honored to be recognized by the Forest Stewardship Council's 2022 Leadership Awards along with our partners American Forest Foundation and The Nature Conservancy.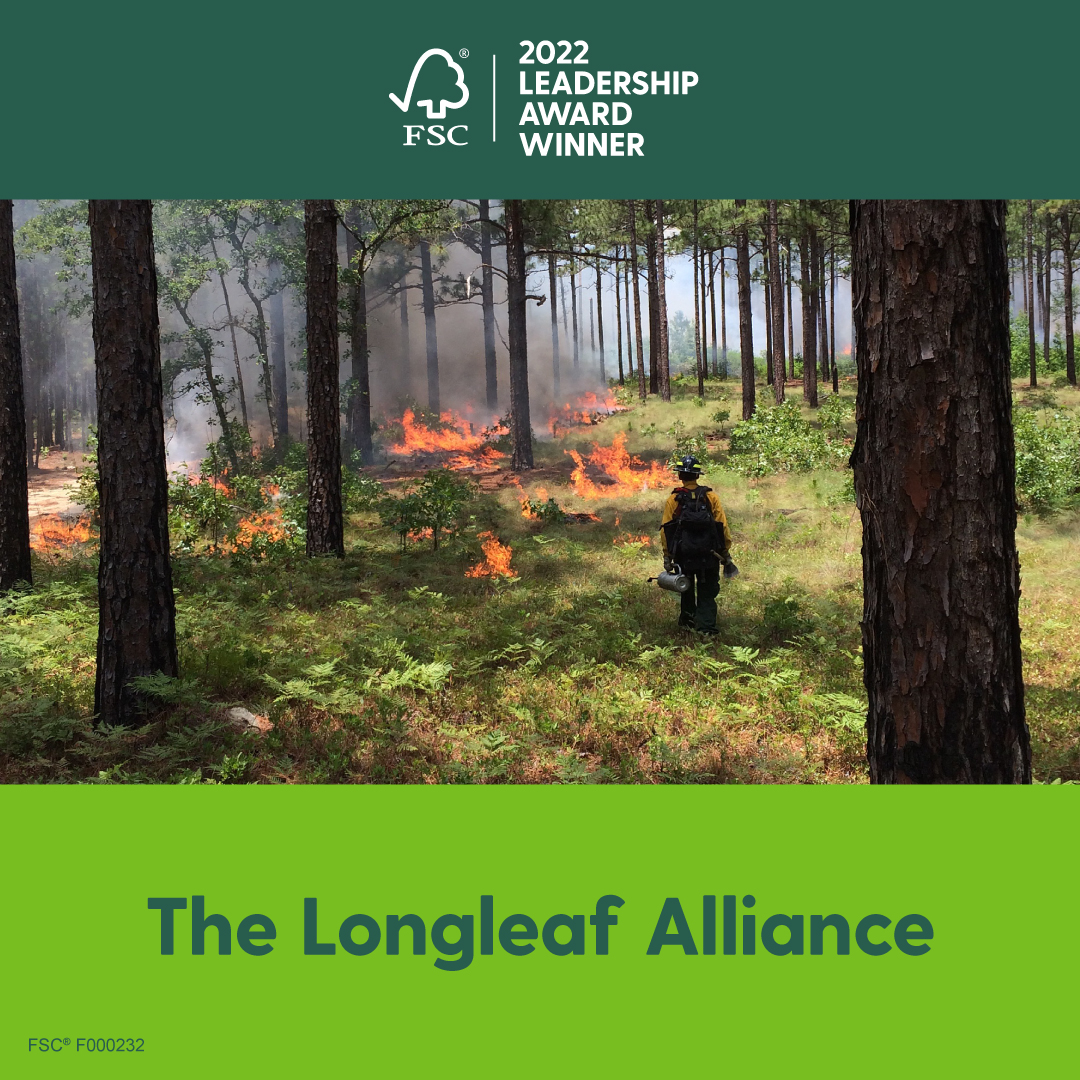 FSC Leadership Awards celebrate forest owners, builders, architects, retailers, paper mills, manufacturers, environmental organizations and many others who contribute to the movement toward responsible sourcing and forest management.
Congratulations to all the 2022 winners:
+ American Green Consulting for developing innovative tools and providing customer-focused consulting to support FSC Chain-of-Custody certified businesses.
+ Appalachian Mountain Club for managing 100,000 acres of FSC-certified forest in the Maine Woods Initiative to restore landscapes and enhance recreation.
+ Bio Pappel for being one of the largest manufacturers of recycled paper, paper products and packaging in Mexico, the United States, Canada and South America using 100% recycled raw materials to produce FSC-certified paper for major brands.
+ Cascades for producing FSC-certified containerboard packaging, tissue and specialty products in 80 facilities throughout North America.  
+ Ejido Noh Bec, Ejido Caoba and Ejido Nuevo Becal in Southeastern Mexico for embracing FSC certification in diverse, tropical, community-based forests. 
+ Element5 for earning and promoting FSC certification in Ontario's first cross-laminated timber manufacturing plant to create low-carbon building materials for the 21st Century. 
+ F&W Forestry for offering FSC to clients for over 20 years, meeting the diverse objectives of their group members across more than 500,000 acres of certified forest. 
+ Greenerprinter for being the San Francisco Bay Area's premier environmentally sensitive printer, prioritizing recycled paper and marketing FSC to customers.  
+ HP Inc. for a strong FSC preference policy, achieving 95% FSC or recycled fiber for HP brand paper and packaging in 2020, increasing FSC-certified forests in China, and more.  
+ Lafcadio Cortesi posthumously recognized for dedicating his life to conserving forests and defending community rights around the world, especially in Canada and Indonesia. 
+ The Longleaf Alliance, American Forest Foundation and The Nature Conservancy for landscape-scale conservation in support of the FSC Controlled Wood system. 
+ Melissa & Doug for the widespread and growing use of FSC-certified materials in its paper products and iconic wooden toys, as well as for marketing FSC extensively in its consumer engagement. 
+ Meta for specifying 100% FSC for permanently installed wood in its commercial offices and data centers, achieving 94% FSC across 17 million square feet of data centers.  
+ Peter Hayes and Family for managing Hyla Woods as a model of ecological forestry with a rare mix of expertise, humility, and a passion for collaboration to improve forestry. 
+ REI for innovative product impact standards that identify FSC as a preferred attribute in all wood products from partner brands that are sold online and in their retail outlets. 
+ West Elm for more than doubling FSC wood use from 22% to 45% over the past five years, and for on-product marketing of FSC to heighten customer awareness.  
+ World Wildlife Fund-US for helping to found FSC, for service on the US Board of Directors, for engaging countless companies and consumers to choose FSC and more.